My Family
I married a beautiful woman, Tiffani Powell, on September 26, 2009. She is passionate about God, fears the Lord, and loves me (most of the time 🙂 ). We currently have three children, Noah, Micah and Jannie Rose. Needless to say, we have a busy home, but we enjoy every second.
As a family, we love to do anything outside. We also love to spend time at the beach when we have the opportunity.
On a personal level, I love sports (except for hockey and Nascar…but Nascar isn't really a sport), I love to play golf, run, read, explore historical landmarks, and write.
Our Adoption
In 2012, God began stirring in our hearts a passion for adoption. We spent several weeks in prayer and became convinced God wanted us to adopt from Ethiopia. So, we trusted the Lord's prompting and began the adoption process.
Our desire to adopt is directly rooted in the fact that our Savior has adopted us. While we don't believe God calls everyone to adopt, we do believe every follower of Jesus has a role to play. Some are called to pray for orphans, some are called to foster, some are called to financially support.
From the beginning, our theme verse has been John 14:18.
"I will not leave you as orphans. I will come to you."
July 25, 2016, we saw our daughter's face for the first time. Our agency sent several pics and a video or two. Needless to say, we were overwhelmed, with joy, of course. For the next several months, we worked hard to finalize paperwork and come up with the funds necessary to bring Jannie Rose home. 
On January 13, 2017, we boarded a plane for Hyderabad, India. We met our beautiful daughter two days later. For the next 33 days, we were busy with one appointment after another. We even flew to New Delhi for a few days for a few last-minute meetings. Mostly, though, we praised God for bringing us this far. And we enjoyed every minute with Jannie Rose.
We flew back to the states February 15. Guys, I was so nervous and excited for Noah and Micah to finally meet their sister. The whole thing was perfect and we're so thankful for life as a family of five.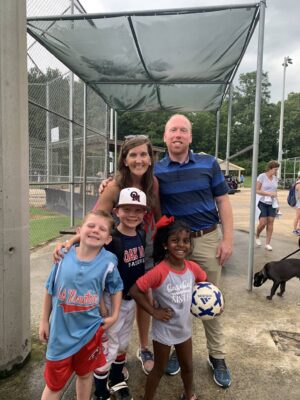 My Content
This site is devoted to God. I hope every word on this page gives glory to Him. My goal is to challenge status quo Christianity and push everyone (Christian or not) to see God with fresh eyes.
Here are a few of my favorite posts:
Out of the Darkness, Into the Life
5 Reasons You Really Need to Slow Down
Contact Me
I would love to hear from you. If you would like to leave a comment, click this link.
One last thing: please follow me on social media. I believe strongly in the opportunity social media provides in an ever-changing world. Social media is not going away, so I believe the best thing to do is embrace it for the glory of God. Here are the links to my social media sites: